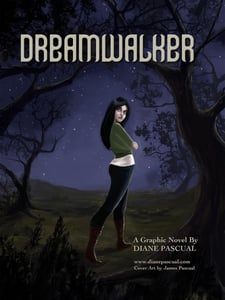 $

20.00
3rd Edition, original 52 page Graphic Novel, trade paperback version plus additional extras. 130 pages.
This 3rd edition includes a "behind the comic" insight on development and characters not included in the original graphic novel. It also includes process sketches and development for the graphic novel as well as character sketches from 2009 to 2011 as the artist worked on this project—about 10+ plus pages bonus! Be the first to read a short excerpt from the novel adaptation of this popular graphic novel.
Dreamwalker the novel brings you deeper into the reality of your favorite characters like you've never known them before. Also, included are Diane Pacual's real life inspirations for this novel, her writings on dreams and spirituality.
For additional photos please visit Diane Pascual's blog, www.dianepascual.blogspot.com
Signed with an original sketch.
6.5x8.5
Please email if you are interested in purchasing, I may be reprinting.